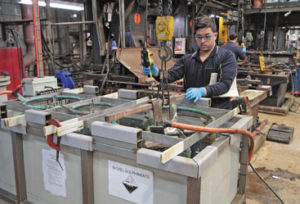 Sulphamate Nickel plating is a versatile and economical plating process with high surface durability due to the higher concentration of nickel that this method utilises (99.9% pure nickel deposit).
CCA Hardchrome offers sulphamate nickel plating in conjunction with hard chrome plating to provide a durable, wear-resistant and corrosion-resistant surface suitable for damp saline environments, such as underground coal mines.
This material has a high degree of purity and density, giving the surface high corrosion resistance and making sulphamate nickel plating ideal for pieces that may be exposed to both wet or humid environments. Sulphamate nickel plated surfaces also have superior ductility and high-temperature resistance, with high tensile strength. In addition, the plating process is more cost and time efficient compared to other standard plating process, making nickel-chrome plating an economical option in situations where heavy build-up is required.
Contact us today to find out more about our sulphamate nickel plating services.