Grinding machines handling rods up to 4.2m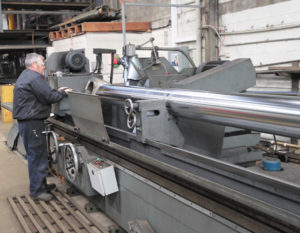 CCA Hardchrome operates a complement of 3 grinding machines of varying sizes to meet the needs of our specialised customers. The largest of these can handle rods with dimensions of up to 4,200mm x 600mm.
Grinding is an important step in the chrome plating process, as worn chrome material needs to be removed from piston rods and other components in preparation for plating. In some cases, post-grinding after plating is required to bring the surface thickness of newly laid chrome into specified limits. Accuracy is indispensable at all times during this finely measured process.
Our grinding machines are operated by extremely experienced operators who apply a practiced eye and feel for the material to ensure this delicate task is performed with the highest accuracy. Only by removing all worn chrome material and completing the plating preparation properly are we able to ensure a perfect surface finish.
Our grinding machines and other equipment, paired with the experience of our technicians gives our facility the capacity to accommodate large and small jobs with the same speed, efficiency and quality.
For quality chrome plating and customised hard chrome solutions tailored to your specific needs, contact us now at 02 9838 5895 or info@ccahardchrome.com.au.