7 hard chrome plating cells configured for specialist components up to 3.8m.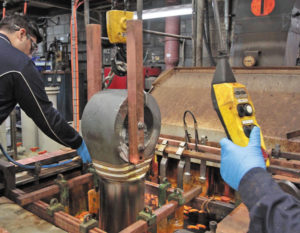 Our facility operates 7 chrome plating cells of different dimensions to accommodate a wide range of pieces of differing sizes and unusual shapes with the maximum solution depth of 3,800mm.
High quality hard chrome plating is dependent on paying attention to the detailed steps in the process. The plating process is a highly technical step in the process of applying hard chrome finishes, especially for use in hydraulic systems which have fine tolerances and specific requirements for thickness and uniformity.
To ensure we maintain these factors and ensure consistency, three important factors must come together correctly to ensure consistently high end product. These are: bath chemistry, current density, and current consistency. CCA operates several plating cells of differing dimensions to accommodate the types of hydraulic components commonly chrome-plated during the course of repair. These include extra-long plating cells for extremely large cylinder rods.
Regardless of the dimension, the plating cells are jigged up to ensure the correct suspension of components to be plated to ensure uniform current density. In this way we eliminate high spots and other unwanted anomalies such as milky or burnt chrome deposits.
For quality chrome plating and customised hard chrome solutions tailored to your specific needs, contact us now at 02 9838 5895 or info@ccahardchrome.com.au.