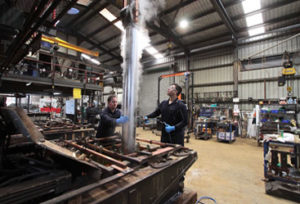 Industrial hard chrome plating is an integral part of many hydraulic components such as cylinders, pumps and motors. This material has high hardness and a low coefficient of friction, which gives it superior performance and good resistance to the abrasive and erosive wear encountered during operation. Hard chrome also has excellent corrosion-resistance, protecting against atmospheric oxidation and other forms of corrosion.
In 30 years, CCA Hardchrome has built a reputation for delivering a highly consistent hard chrome product which meets the standards of Australian industry. We operate seven hard chrome plating cells of various dimensions, which can accommodate components in a multitude of dimensions.
Our facility includes plating cells that are set up and configured for the swift processing of especially long cylinder rods such as those found on cranes and industrial rollers, those found in paper mills as well as other manufacturing operations.
Contact us today to find out more about our hard chrome plating services.