We're a professional team who take pride in what we do.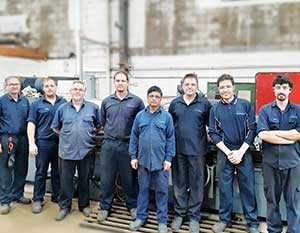 CCA Hardchrome are a close-knit team of professionals who work tirelessly to maintain the company's reputation for quality and service. Each member of our team is a dedicated specialist with years of experience in the craft and science of hard chrome plating. Each member of our team is carefully selected for their knowledge, experience and their fleet footed ability to respond to problems as they arise.
As a recognised expert in the field of surface engineering, CCA Hardchrome has been providing quality chrome plating services in Sydney for over 30 years. Based on Tattersall Rd, Kings Park NSW, our modern facility is fully equipped to offer a range of services including hard chrome plating, cylindrical grinding, linishing and general machining.
We specialise in the resurfacing of hydraulic piston rods and have the capacity to repair rods up to 3m in length and 520mm maximum diameter. We also boast the capacity to provide our customers with customised hard chrome plating solutions tailored to individual requirements.
Our state-of-the-art chrome plating plant allows us to acheive the perfect surface finish each time. With consistent turnaround and high quality results, CCA Hardchrome caters for both large and small scale customers across a wide number of applications and industries.
For further information about our hard chrome engineering services, please do not hesitate to contact us on 02 9838 5895 to chat to a member of our team.